From the day I became the event producer for Taste of the NFL in 1992, I knew that changing the world for the better was my calling.
That's the day I learned that 1 in every 7 kids didn't know when their next meal would come and from where. That stat shocked and appalled me. It made me angry and committed at the same time. I also learned that food banks were supposed to be a temporary solution. With today's pandemic the numbers have risen to 1 in 4. The face of hunger in America is a child's.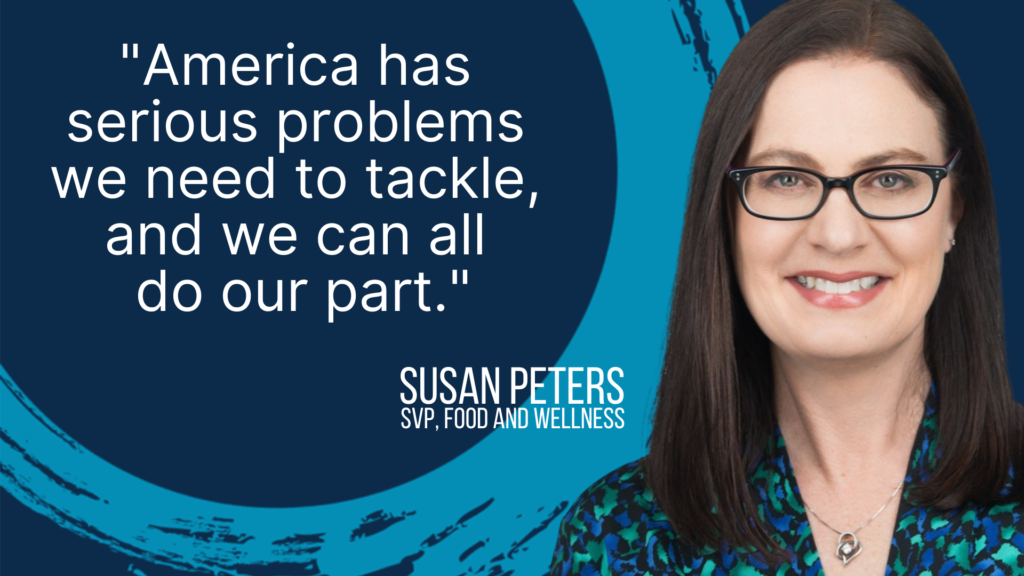 Taste of the NFL is an NFL-sanctioned food and wine hunger relief benefit held the night before Super Bowl in the Super Bowl city to raise awareness and funds for domestic hunger relief. The Super Bowl XXVI host committee created the event for the 1992 Super Bowl in the Twin Cities. Through the course of 25+ years, TNFL has distributed more than $25 million dollars to Feeding America and its food bank affiliates, creating more than 200 million meals.
Food banks were started in the 70's with the hope of being obsolete within 10 years and are even stronger now, nearly 50 years later. We should be trying to create a new system that ensures every American family can have access to the nutrient-rich foods they need to thrive. The goal should be to put food banks out of business. We need to fix our food system. We have enough food supply in our country for every American to get three nutritious meals a day.
Astounding and unconscionable facts have continued to drive my ability to help clients embrace purpose and make a positive impact.
In 2005, only 28% of all plastic water bottles were recycled in America. The rest were clogging up landfills, choking Mother Earth. More importantly, media conversation wasn't talking about a solution. Americans' disinterest in recycling was infuriating to learn, and it spurred me and my team to create the Brita FilterForGood campaign to eliminate single use bottled water waste. The problem was that most Americans lacked understanding around the importance of recycling. They didn't realize that we were creating an island of plastic garbage in the ocean while simultaneously killing marine life with the same litter. This wasn't the world I wanted to live in. I wanted to create a better world for future generations.
Our team set out to create an education campaign that was thought provoking yet easy to understand and embrace. One that offered a simple step each person could do that, collectively, would have profound impact. Our budget was small, but our will was mighty.
We knew that Brita filters alone weren't the answer. They were only part of the solution. People choose bottled water first for convenience, then for taste. By partnering a Brita water filter with a Nalgene reusable water bottle, we were able to offer people great tasting, convenient water. We also asked people to pledge to reduce their personal single use water bottle intake by one bottle a day.
Strategically, we went against the grain of a typical brand campaign and made the campaign unbranded, positioning it as an educational campaign. We knew the media would be more interested in covering the topic if it was unbranded. The concept, FilterForGood, allowed us to highlight Brita water filtering but gave us a long-term strategic platform that was flexible for future communication needs (health, affordability). Our sustainability message was FilterForGood of the Earth. Later we would add FilterForGood health and FilterForGood for personal wallet reasons (water cost $10 per gallon while gas was $3 per gallon at the time).
The response was overwhelming. Brita's sales shot up and single water bottle use dropped significantly. The campaign won many awards and helped set a new industry standard for how brands can profit through purpose.
The FilterForGood campaign lasted eight years, which is incredibly long for one campaign.
My personal favorite highlights included helping the Sundance Film Festival go bottled water free and making the FilterForGood bottle the choice of the Biggest Loser show.
Both programs were highly influential and helped us educate celebrities and consumers alike. One of the many reasons people carry reusable water bottles today is because they are more educated about recycling.
Another astonishing fact has led me to tackle education on the diet climate change connection. It takes 660 gallons of water to make one beef burger patty. That's wasting water — the equivalent of 38 eight-minute showers. Worse, raising animals for food takes up nearly 80% of global agricultural land yet produces less than 20% of the world's supply of calories! As a mother of two tweens, I believe it's my duty to help save the Earth so that they have clean air to breathe and a healthy planet to live on.
I've chosen a vegan lifestyle because it's the single most impactful way to reduce your carbon footprint.
That lifestyle choice has made me both healthier and happier knowing I'm doing my part. My kids can pet chickens and cows and not worry they will end up on our dinner table.
They also realize that plants have all the protein you need to survive and thrive. Did you know that two strongest animals on this planet are the gorilla and elephant and both only eat plants? Elephants and gorillas get their strength from a plant-based diet. We don't need animals as a middle step.
Today, I'm proud to work with incredibly talented people who believe that each person on this planet has an impact and a responsibility. Whether that's choosing to eat plant-based to reduce your environmental footprint or helping provide access to healthy food to BIPOC communities or simply getting the vote out.
America has serious problems we need to tackle, and we can all do our part.
Written by Susan Peters, SVP of Food and Wellness at Effect